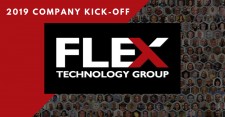 PHOENIX, February 1, 2019 (Newswire.com) - Flex Technology Group (FTG) hosted their 2019 Kick-Off Meeting inside the prestigious Center Stage at Herberger Theater in Phoenix, Arizona to celebrate their outstanding achievements for 2018.
Eric Schurenberg, CEO of Mansueto Ventures (Fast Company and Inc.) commenced the meeting with an enthusiastic and congratulatory video to the crowd of FTG employees. "I'm here to congratulate you on your 9th time making the Inc 5000. It's hard enough making the list at all because you're competing against all of the great privately owned companies in America, but only 5000 make the list, and you've done this nine times in a row. Congratulations on your big #1379. That's amazing! It's a tribute to your hard work and your culture. You guys are the best that America has to offer. As the former editor and chief of Inc and now the CEO of the company that holds Inc, I'm proud of you. Congratulations."
FTG celebrated their 2018 achievements and announced some new initiatives for the upcoming year. Starting this year, every employee will be granted 8 hours of volunteer service at a nonprofit organization of their choosing. The increased emphasis on community involvement has set a new precedent for all employees to give back. FTG has also pledged to match fifty cents on the dollar for any employee donations to a nonprofit organization.
"Our annual Kick-Off meeting serves the same overarching purpose each year, and that is to show our gratitude to all of the amazing employees who define our organization," said Frank Gaspari, CEO of FTG, "Our success is firmly grounded in the great people that work at each of our companies. FTG revenues will surpass $300 million this year across our national portfolio of companies. Our growth strategy has allowed FTG to gain national presence, but at the core, we're all the same hard-working, talented, driven people. Today is about acknowledging each and every person that is responsible for our amazing growth and success."
###
About Flex Technology Group
Flex Technology Group and its family of companies provide customized office technology solutions for national and leading-edge regional companies. We focus on print, document management, document production and managed IT solutions, representing industry leading suppliers such as Canon, Ricoh, Konica Minolta, HP, Lexmark, and various software solutions. Our 1,000+ employees proudly service almost 40,000 customers nationally. For additional information, please visit www.flextg.com.
Source: Flex Technology Group
Share: