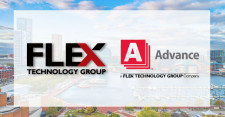 FTG Makes Strategic Investment in Advance Business Systems to Expand Market Share in the Northeast
BALTIMORE, March 17, 2023 (Newswire.com) - Flex Technology Group (FTG) announced today the acquisition of Advance Business Systems, a premier office technology and solutions provider based in Baltimore, Maryland.
Since its founding in 1964, Advance Business Systems has become a leading provider of business solutions in Maryland, helping to improve workflows and increase efficiencies with Managed IT Services, Hardware, Production Print, Managed Print Services, Document Management, and Software Enhancement. Today, Advance Business Systems serves customers throughout the greater Mid-Atlantic region and across the nation out of its corporate headquarters in Baltimore, MD.
"We're excited to welcome Jeff Elkin and his team of over 130 professionals to the FTG family. Advance is a world-class organization. Their core values and unwavering commitment to their customers, community, and people align strongly with FTG, creating a solid foundation for a phenomenal partnership," states Frank Gaspari, CEO of Flex Technology Group. "With this acquisition, FTG's revenue now exceeds $400 million. We have a strong pipeline of great dealers looking to join FTG. Our national sales platform continues to fuel our organic growth. The future is exciting at FTG, and I look forward to the opportunities it will create for our 1300+ employees."
"I'm thrilled to announce our partnership with Flex Technology Group and what that means for our entire team at Advance and our customers - new growth opportunities, additional employee programs, and expanded resources to provide an even greater customer experience," states Jeff Elkin, President of Advance Business Systems. "We're incredibly proud of what we've built here and look forward to leveraging our collective resources to continue our growth and elevate our value propositions."
"We are excited to continue our best-of-breed acquisition strategy," said John Knoll, co-founder of Oval Partners and investment partner to Flex Technology Group. "Advance's longstanding customer relationships and deep market presence in the greater Baltimore area creates an attractive opportunity for FTG to offer its market-leading managed print platform to both existing and new enterprises in that market. Combining the local presence of our copier dealer partners that have joined Flex with the nationwide coverage and capabilities of FTG is a powerful combination that has benefited all our customers. This is an exciting continuation of that strategy."
Mr. Elkin, who will be an equity holder in Flex Technology Group, and his executive team will remain in their current leadership roles to ensure the continuation of the company's proven success in serving their employees, customers, and the greater Baltimore community.
###
About Flex Technology Group
Flex Technology Group provides customized office technology solutions for national and leading-edge regional companies. The company focuses on print, document management, document production, and managed IT solutions, representing industry-leading suppliers such as Canon, Ricoh, Konica Minolta, HP, Lexmark, Sharp, and various software solutions. FTG services over 25,000 customers nationally. For additional information, please visit www.flextg.com.
About Oval Partners
Oval Partners is a multi-family office investment firm designed to provide liquidity, growth, capital and acquisition funding to founders of growing businesses across North America. Oval's capital base is permanent—it is committed, unencumbered and unconstrained in terms of holding period. Oval offers the capabilities and capital of a private equity fund, but the mentality, partner orientation and investment time frame of a private holding company. Oval's principals have completed more than 75 transactions involving platform investments, acquisitions, exits, and re-financings. Oval focuses on making investments in the tech-enabled services, information services, internet, software/SAAS, and industrial technology markets. FlexPrint embodies the essence of Oval's targeted "buy and build" strategy in attractive, service-oriented, niche end markets. For additional information, please visit www.OvalPartners.com or contact Dan Ruhl at Dan@OvalPartners.com.
About Advance Business Systems
Advance is an iconic Baltimore-based business serving the Maryland community since 1964. They attribute their longevity to delivering exceptional service to customers as well as their commitment to the growth and development of their employees. Advance's mission: "We are a people company with an intense passion for improving our customers' businesses and enhancing our team members' lives," is the guiding principle behind their every action. Advance partners with Maryland businesses to identify areas within their organizations that would benefit from more effective technology and processes to help increase efficiencies while maintaining the security of their data and the safety of their employees. Advance provides Hardware, Managed IT, Managed Print, Document Management, and Software Enhancement services.
From its inception in 1964, Advance has made caring for and investing in its employees and their families a top priority. The culture is team-oriented and collaborative, with standardized processes in place that create efficiencies that are utilized at every level of the organization. Advance has been able to consistently thrive in the Baltimore marketplace by constantly adapting to and staying ahead of business and technology innovations. Learn more at www.advancestuff.com.
Source: Flex Technology Group
Share: