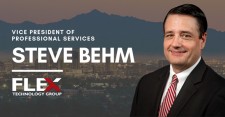 Veteran professional services leader Steve Behm joins Flex Technology Group's executive management team to accelerate growth
PHOENIX, March 10, 2019 (Newswire.com) - Flex Technology Group (FTG) is pleased to announce the addition of Steve Behm as the company's Vice President of Professional Services.
"We're thrilled to add Steve's leadership experience and expertise to our executive team," says Tom Callinan, President of Flex Technology Group. "We're investing in expanding our professional services and support capabilities across FTG, and Steve will lead this initiative. His impressive background will be a key driver in our continued growth."
Steve was previously Vice President of Sales Americas for DocuWare Corporation. His unique blend of technical expertise and strong sales skills in the software solutions industry will enable him to drive FTG's growth strategies.
About Flex Technology Group
Flex Technology Group provides customized office technology solutions for national and leading-edge regional companies. The company focuses on print, document management, document production and managed IT solutions, representing industry-leading suppliers such as Canon, Ricoh, Konica Minolta, HP, Lexmark and various software solutions. FTG services almost 40,000 customers nationally. For additional information, please visit www.FlexTG.com.
Source: Flex Technology Group
Share: