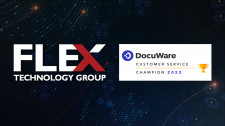 Flex Technology Group achieves national recognition as one of DocuWare's top dealers, receiving both the Customer Champion Award and admittance into the exclusive Diamond Club.
PHOENIX, February 11, 2022 (Newswire.com) - Flex Technology Group (FTG) has recently been recognized by DocuWare, a leading software solutions provider for digital document management and automated workflows, for its exemplary performance as a dealer, partner, and customer service provider.
On top of being admitted into DocuWare's exclusive Diamond Club as one of the top-selling dealers in the nation, FTG also earned recognition with the 2022 DocuWare Customer Service Champion award. These accolades are a true testament to the flexibility, dedication, and superior service that FTG provides to its customers.
"It's an honor to receive the 2022 DocuWare Customer Service Champion Award," said Ron Nielson, COO of Flex Technology Group. "This recognition is a direct reflection of FTG as a company and our ability to combine superior customer service with world-class software solutions focused on alleviating customer pain points across industries. I'm especially proud of our professional services teams for their commitment to our clients and for setting the industry standard in customer service."
DocuWare is a leading software solution that provides digital document management and automated workflows to organizations of any size and across all major industries from manufacturing and retail to healthcare and government agencies. Automating manual tasks, reducing dependence on paper files, and delivering secure access to information and files anytime from anywhere are just a few of the benefits customers realize from the DocuWare platform.
To learn more about FTG's professional services solutions, please visit FTG Professional Services-DocuWare.
###
About Flex Technology Group
Flex Technology Group provides customized office technology solutions for national and leading-edge regional companies. The company focuses on print, document management, document production, and managed IT solutions, representing industry-leading suppliers such as Canon, Ricoh, Konica Minolta, HP, Lexmark, and various software solutions. FTG services almost 35,000 customers nationally. For additional information, please visit www.FlexTG.com.
Source: Flex Technology Group
Share: